We Are Local Columbus Cash Buyers
We Buy Houses In Columbus, OH
Offer Express will help you out if you're trying to sell your home and want a straightforward solution. We don't have any underhanded methods or covered-up fees, so rest easy knowing that we always put our customers first. If you need cash quickly for your Columbus, OH home, reach out to us today.
Fill out the short form below to receive your Quick Cash Offer!

"Sell My House Fast Columbus, OH"
Need to sell your house fast in Columbus, OH? You'll want a quick and simple solution to accomplish it. Hiring a real estate agent usually doesn't result in quick sales. That's why you should work with a cash home buyer in Columbus so you can get a speedy solution that meets your needs. We buy houses in Columbus, OH, and all of our transactions are hassle-free, cash-driven, and consumer-oriented so we can help you profit off your property as fast as you possibly can. Check out how our process works by clicking the button below.
Ready to sell your Columbus home fast with Offer Express? Here's what to expect!
If you're looking to sell your Columbus home fast, Offer Express is the better option for you. With a traditional real estate agent, not only do you have to pay their fees, but you would also need to cover additional costs like cleaning and repairs before they put your home on the market. Plus, there are all of those other small hidden costs that can add up. But when you sell your home for cash with Offer Express, everything is upfront and transparent.
The entire process starts when you reach out to us. We'll help find an ideal time for one of our representatives come out and assess your home. They will provide you with a competitive offer on your house promptly after the evaluation. If you accept this proposal, we can offer you a fair cash offer in as little as 72 hours. This solution is great if you're in need of a quick and easy way to sell your unwanted property.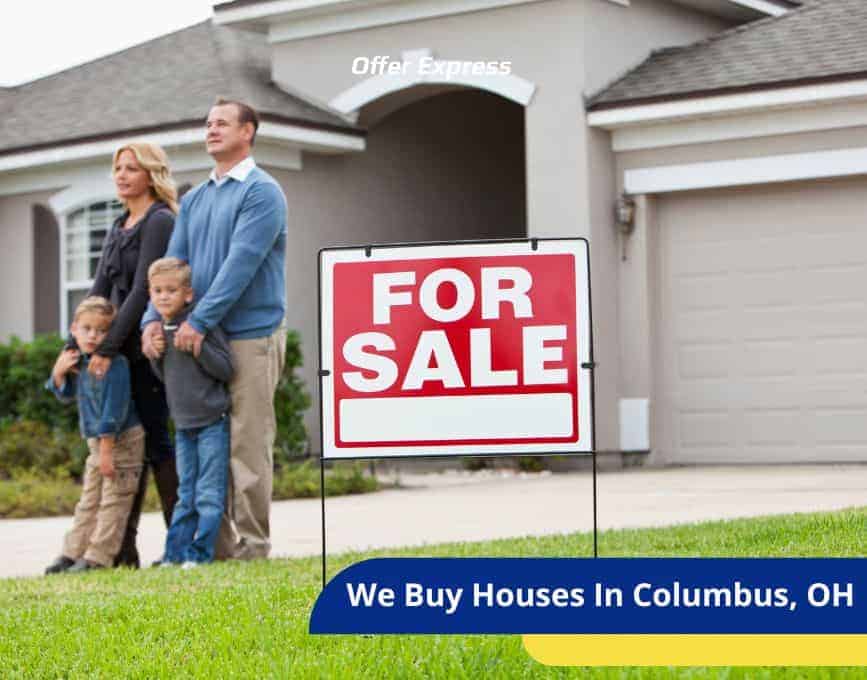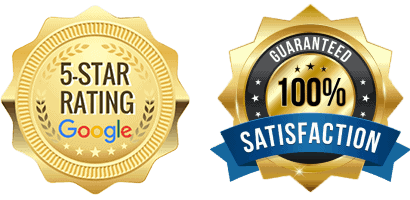 The Offer Express 3 Step Process
Sell Your Columbus Home For Cash, Fast!
Call Or Fill Out The Form
Request your cash offer by submitting your contact information to us or calling us direct at: (614) 820-5777.
We'll Give You A Cash Offer
We'll schedule a property viewing and make you a fair, no-obligation, all cash offer in a as little as 72 hours or less.
In some cases, we can close escrow and transfer your money in as little as 14 days of accepting our offer.
What to expect from living in Columbus
The United States Census Bureau claims that over 900,000 people chose to settle in Columbus. It is the capital of Ohio and offers many amenities that other big cities provide but is more affordable. The cost of living in Columbus, OH is still below the national average, and the unemployment rate is lower than the rest of the country. The job market has expanded in recent years, with an emphasis on health care, technology, education, and business services.
Columbus has a lot to offer its residents. The city is home to several professional sports teams, including the Blue Jackets, Clippers, and Crew. There are also many minor league and collegiate teams. The arts are alive in Columbus with ballet, opera, symphony, and theater companies. The city has a rich history, and there are many historical sites and museums to visit.
Although Columbus does have its cons, such as the high crime rate or bad traffic, it also has a lot to offer. For example, there are many good schools in Columbus that you can choose from.
Overall, Columbus is a mixed bag. There are many reasons why people need to sell their homes fast, and Offer Express can help with that.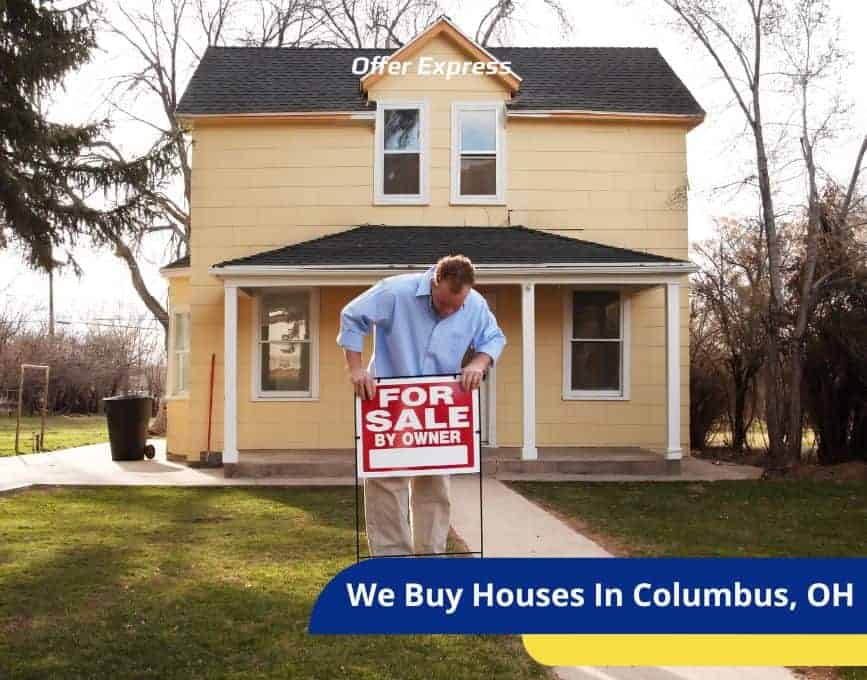 We Buy Houses In Columbus, OH Reviews

"I wanted to thank you for purchasing my home I am very happy with how easy the process was for my family. I really appreciate you giving us a month after closing to move into our new home. I will be recommending you to anyone I know that needs to sell there home."

"I was less than 2 months from losing my home because I was behind on my payments… Nate came in and payed a fair price for my home and gave me extra time to move out after I received the money. He went above and beyond to help me out"

"They made sure my questions and concerns were answered in a timely matter and I received cash!
Thanks for helping me selling my house!
Why it's time to sell your house fast in Columbus, OH
At Offer Express, we can sell your Columbus home fast for cash seamlessly. We've worked with dozens of people who have had to sell their homes for many reasons. We're aware that life is unpredictable and can move rapidly, so you need solutions that work just as fast. These are some of the many benefits you can experience when you choose to sell your home fast for cash with Offer Express:
Offer Express provides faster, easier selling solutions that are better than selling your home the traditional way and we always aim to work faster. If you're looking for assistance during this difficult moment, look no further. Our solutions are quick and painless so that you can easily move on with your life. When it comes down to making an offer on your home, we may even be able to give more than initially expected. Contact us today!
List With A Realtor Or Sell To A Cash Buyer?
Which option is quicker?
Puts more cash in your pocket?
Guaranteed less hassle?
Frequently Asked Questions
Where are you buying Homes?
How fast can I close?
Do I have to list my home?
We Will Buy Your House In Any Situation!
Divorce
Fire Damage
Condemned Property
Ugly House
Title Issues
Hoarders
Liens
Medical Bills
Trouble Selling
Behind on Payments
Owe Taxes
No Equity
Disability
Bad Tenants
Facing Foreclosure
House In Probate
Retiring
Judgments
Structural Issues
Relocation
Bad Neighborhood
Downsizing
Code Violations
Facing Legal Issues
Death In The Family
Liquidating Assets
Inherited Property
Job Loss
Bad Mortgage
Expensive Repairs
Bankruptcy
Unwanted Rental Property
Selling To Offer Epress vs. Listing With A Real Estate Agent
Selling w/ An Agent
Commissions / Fees:
6% on average is paid by you, the seller
NONE
Who Pays Closing Costs?:
2% on average is paid by you, the seller
NONE – We pay all costs
Inspection & Financing Contingency*:
Yes, up to 15% of sales fall through
NONE
Appraisal Needed:

Yes

, sale is often subject to appraisal
NONE – We make cash offers
Average Days Until Sold:
+/- 91 Days
IMMEDIATE CASH OFFER
Number of Showings:
It Depends
1 (Just Us)
Closing Date:
30-60 +/- days after accepting buyers offer
The Date Of YOUR CHOICE
Who Pays For Repairs?:
Negotiated During Inspection Period
NONE – We pay for all repairs
About Columbus, OH And Local Resources
Columbus is a city that offers something for everyone. From family-friendly fun at COSI to world-class science and art museums in central Ohio's capital; there's so much more than just restaurants or bars here! The people are kind too, it feels like home from day one when you step foot on our miraculous grounds (that actually happen to be made). Explore this eclectic neighborhood full of creative endeavors like the Gallery Hop monthly festival which features live music outside galleries throughout the locals' favorite shopping district known as "The Short North".